Dessert
5 easy classic cocktails to prepare at your parties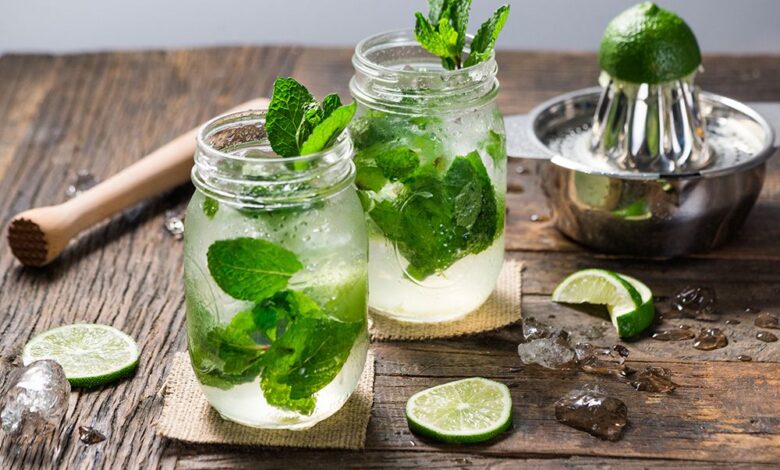 Cocktails are drinks that we usually reserve for moments of celebration. Some we can make to our liking, but others are combined with a whole story behind. So that you can surprise your guests with them, I propose 5 classic and easy cocktails to make at home.
Cocktails with their own name to enjoy at home
Fill the shaker two-thirds full with iceAlthough their names sound very sophisticated, it is not necessary to move to a glamorous club to enjoy these spirits. With a little care and respecting the proportions, these classic cocktails can be made at home No problem.
If you have a shaker, great, it will be very useful. If you don't have it, nothing happens, because you can make them in a blender or in a large jug.
The list of classic cocktails is very extensive and there are even several versions of some. In order not to beat around the bush, this time I want to propose these 5 classic cocktail recipes that you can do at home without problems.
The amounts that I provide you are for prepare two glasses of each. If you are going to have guests, you will have to multiply the ingredients.
bloody mary
This tomato juice and vodka cocktail is a classic in aperitifs. The origin of the Bloody Mary is not clear, although its invention is usually located in the New Harry York bar in Paris. There, in the 1920s, the bartender Fernand Petiot devised and began serving this drink.
Many times it has been said that this cocktail takes its name from the nickname by which the queen was known Mary I of England, of the Tudor dynasty. However, it is also believed that it was a patron of a Chicago nightclub who named the mix that way, as it reminded him of a woman whose nickname was Bloody Mary.
What is clear is that this is a most appetizing cocktail, whose combination of ingredients is surprising, including typical celery stick with which it is served.
Ingredients to make Bloody Mary
70ml vodka
200 ml of tomato juice
15 ml of freshly squeezed lemon juice
2 drops of Tabasco
2 drops Worcestershire sauce
1 touch of freshly ground black pepper
1 touch of salt
2 sprigs of fresh celery to decorate
ice cubes
How to make a bloody mary
Pisco Sour
The pisco sour It is the quintessential Peruvian cocktail. It is made with pisco, a brandy made from pisco grapes. These correspond to specific grape varieties that have been produced in Peru since the end of the 16th century.
The word sour refers to the touch between acid and sour that contributes the lemon juice.
There is some consensus that it was created by the owner of Bar Morris in Lima, Peru, in the 1920s. However, Chile also claims authorship of this aromatic blend. In fact, there are excellent Chilean piscos, such as the Mistral pisco.
In addition to its exotic flavor, pisco sour it is characteristic for that layer of foam that crowns it. This is due to the presence of the egg white among its ingredients.
Ingredients to make pisco sour
120 ml of pisco
80ml lemon juice
40 g of syrup (made with water and sugar in equal parts)
1 egg white
4 drops of Angostura
ice cubes
How to prepare the pisco sour
Place all the ingredients in a cocktail shaker, except the Angostura, in this order: pisco, syrup, lemon juice and egg white.
Add a few ice cubes. Shake the shaker well for 15 seconds so that everything is mixed well and the white is slightly foamy.
Serve immediately, discarding the ice, and garnish with 2 drops of Angostura.
Manhattan
The Manhattan is the king of the cocktails made with whiskey. This cocktail takes its name from the Manhattan Club in New York, where it began to be served around 1874, following a party organized by Jenny Jerome, the future mother of Winston Churchill.
Is a fancy drink which became popular in the 1930s and 1940s. Its definitive success came when the character of Marilyn Monroe in Whit skirts and being crazy it occurred to him to prepare a manhattan in a hot water bottle.
Its flavor has bitter and sweet nuances. It is usually taken as an aperitif.
Ingredients to make a manhattan
100 ml of whiskey
40 ml of red vermouth
1 touch of Angostura
ice cubes
2 cherries in syrup to decorate
How to prepare the manhattan
Pour all the ingredients into a cocktail shaker, except the cherries.
Shake for 15 seconds and serve in a cocktail glass, without adding ice.
Decorate each glass with a cherry.
Mojito
Originally from Cuba, The mojito is one of the cocktails that we most associate with moments of partying and enjoyment. Although its origin dates back to the 1910s, it was the writer Ernest Hemingway who popularized it during the 40s and 50s during his stay in Havana and his visits to the restaurant La Bodeguita de en medio.
Its flavor is sweet and almost everyone likes it. It is very refreshing thanks to the aromas provided by mint and lime.
Ingredients to make mojito
80ml white rum
16 mint leaves
2 tablespoons of white sugar
1 lime
100 ml of sparkling water or soda
freshly squeezed lime juice
crushed ice
How to prepare the mojito
Wash the mint leaves and lime well.
Cut the ends of the lime and cut it into 8 pieces.
Place in each glass 4 pieces of lime, half of the mint and half of the sugar.
With a mortar crush the contents of the glasses to extract the juice of the lime. Mix with a teaspoon to dissolve the sugar.
Add crushed ice to half of each glass. Pour in the white rum.
To finish the mojito, add the cold sparkling water and mix gently.
Daisy flower
think of a daisy takes us directly to Mexico. Again there is no consensus as to its origin. One of the most popular stories places it in 1948, at a party held in Acapulco by Margarita Sames, an American from high society.
Its most characteristic ingredient is tequila, typically mexican drink It is usually served in glasses whose edges are decorated with frosted salt.
Ingredients to make margarita
100 ml of tequila
50 ml triple sec liqueur
50ml freshly squeezed lime juice
ice cubes
Salt
lime to decorate
How to prepare a margarita
Decorate the glasses with a salt rim. To do this, lightly wet the edge of each glass with a piece of lime. Then, place the glass upside down on a plate with salt so that it sticks.
On the other hand, fill an ice cube tray halfway. Pour in the lime juice, tequila, and triple sec, in that order. Shake about 15 seconds.
Serve the margarita cocktail in the decorated glasses but without letting the ice fall. Garnish with a piece of lime.
Tips for making these classic cocktails
Whenever possible, it is recommended use industrial icebecause the one we make at home can have odors and impurities.
As almost always happens in the culinary world, the more quality the drink has that you use, the richer your cocktail will be.
Try to use cups with the shape that is normally associated with each drink. So you will enjoy them more authentically.
You can make your own combinations of ingredients and proportions, although ideally you should try the canonical versions first to see what you think.
You must not abuse alcohol. And no driving if you've just enjoyed one of those classic cocktails.