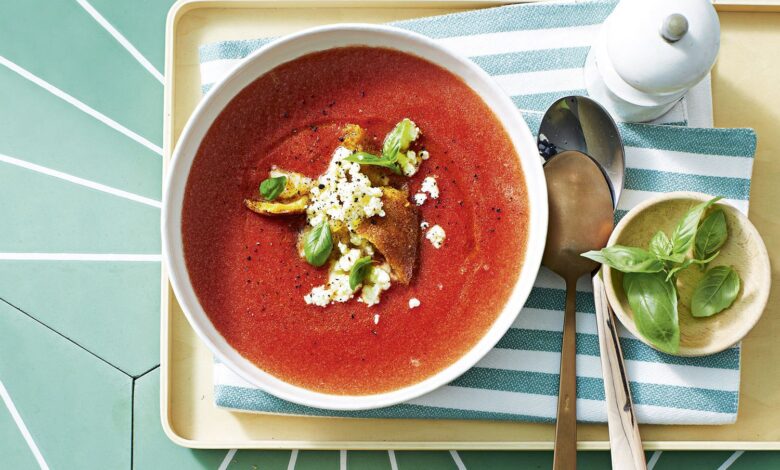 ANDl apple gazpacho, easy recipe where there are, it is a most appetizing proposal for the hot months. Taken very cool, it is not only delicious, but very refreshing. In addition, that point of originality helps us to eat healthy without getting tired.
Apple, cherry, watermelon… The world of gazpacho is undergoing a revolution, as more and more chefs, whether professional or amateurs, who dare to make a version of this traditional dish. No matter how much you love the original recipe, I encourage you to try one of these 2.0 gazpachos, as you may be pleasantly surprised. For example, this Watermelon Gazpacho that I published a while ago was quite a discovery.
To do this apple gazpacho recipe is very simple: you just have to start from the traditional and substitute part of the tomato for apple. You can choose the variety you want, depending on which point of gazpacho will be more or less sweet. I used a Fuji apple, but also Golden, Granny Smith, etc. In addition, I also removed the garlic so as not to mask the flavor of the apple.
Another trick to highlight the fruit flavor is to use a good apple cider vinegar. I seasoned my gazpacho with the organic apple cider vinegar that the Mayador brand had sent me. It is a cider vinegar produced from 100% organic apples, in a traditional way, without filtering or pasteurizing. And you can tell that it is natural because I tried a teaspoon of the vinegar as it comes out of the bottle and it tasted totally like apple juice. So being so soft and with such a rich flavor, I saw it as perfect for this recipe.
With the proportion of ingredients that I indicate you will obtain a gazpacho whose flavor is quite reminiscent of the original but in which the apple sweetness. If you like the idea, play with the proportion of ingredients to get more or less presence of this fruit. if you want to know now how to make apple gazpachoI'll tell you right now.
Ingredients to make apple gazpacho.* Quantities for 4 servings
7 ripe plum tomatoes (approximately 650 g)
1 large apple
1/2 cucumber
1/2 Italian green pepper
1 small spring onion
3 tablespoons apple cider vinegar
5 tablespoons of extra virgin olive oil
Salt
water (optional)
How to make apple gazpacho
Wash and peel the tomatoes. I removed the skin with a peeler that works great for me, but you can also go for the traditional method, which is to scald them.
Peel the apple and take his heart away. Cut it into large pieces.
Also prepare the cucumberthe green pepper and the spring onionwashing and peeling them as appropriate.
Put all the ingredients (except the olive oil) in the glass of a powerful blender or food processor. Shred them until the texture is homogeneous.
Check that the consistency of the gazpacho is to your liking. Depending on the ripeness of the tomato you may have to add a little water to make it lighter.
Finally add extra virgin olive oil and grind it all back. If you are using a hand blender you can pour the oil straight through (in a thin trickle) so that the mixture emulsifies better.
Check the point of salt and vinegar.
Keep it in the fridge until the moment of tasting it and serve it very cold. You can accompany it with the typical gazpacho garnish, which usually includes the ingredients that we have used cut into cubes. In this case do not forget to also include a little apple.
Tips for preparing apple gazpacho
As I mentioned above, with the proportion of ingredients that I give you, you will obtain a gazpacho with a taste similar to traditional in which the sweetness of the apple is distinguished. If you prefer, you can do it only with apple and without any tomato or play with the proportions to your liking.
By having a smaller proportion of tomato, the color of the gazpacho does not come out as red as we are used to. If you change the green pepper for Red pepper you will enhance this color. In addition, being sweeter than green, you will also be giving it another point in flavor.
I advise you to variety of olive oil that you use is not too intense so as not to mask the taste of the apple. Arbequina, hojiblanca or cornicabra would be suitable varieties. And, since we are going to consume it raw, make it extra virgin, of course. By the way, I like to sprinkle a little thread over it when I'm going to serve the gazpacho.
The apple gazpacho endures a couple of days in the fridge perfectly.