Main Course
Asturian beef cachopo recipe with piquillo peppers and French fries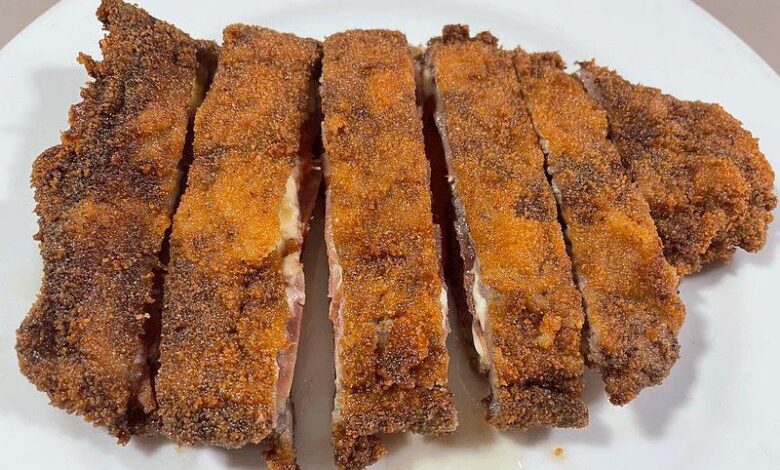 I think that in Spain we are very fortunate in the gastronomic culture that we have and it is a great luxury to be able to visit the different regions to try the most typical dishes of each place. One of my favorites is the asturian gastronomyperhaps because it uses some of my favorite ingredients such as cheeses, meats or vegetables and always highlights the powerful flavor of the dishes.
This recipe from Asturian beef cachopo with piquillo peppers and French fries It is ideal for those who enjoy eating rich and abundant. It is a large veal fillet to which ham and cheese are added and it is coated in batter and fried to achieve a crispy breading that maintains juicy meat and melted cheese.
the key is in fry properly and, although experience is always a point, in the recipe you will see the well-detailed step-by-step so that you succeed even if it is the first time you prepare it, either in pan or fryer. Taking advantage of the fact that I get to work, I prepare these perfect fries: tender on the inside and crispy on the outside and I like to add the slightly sweet touch of piquillo peppers. Personally I hardly ever fry at homeit is not a technique that I am passionate about but I recognize that from time to time and for recipes like this it is worth since this result cannot be achieved in any other way.
If yours are Asturian recipes, do not forget to prepare the traditional traditional asturian bean stewthe Fabes with Clams or the Asturian pot with cabbage and compango. You'll also love the Asturian scorpion fish cakethe Asturian corn cakes with minced chorizo, fried eggs and Cabrales cheese or are you fantastic potatoes with goat cheese sauce.
Ingredients to prepare Asturian cachopo with potatoes and piquillo peppers (2 people):
4 veal fillets or 2 fillets cut into a booklet (you can ask the butcher to cut it like this), always with a finite cut. Also depending on how big the fillet is you may only need 2 fillets or 1 booklet. I recommend that you buy babilla, hip or similar beef, they are economical cuts and perfect for this recipe.
4-6 slices of Serrano ham, depending on its size.
4 slices of cheese to melt and, optionally, blue cheese or ideally Cabrales cheese.
Pepper and salt.
Olive or sunflower oil, enough to fry.
To coat:

Wheat flour.
Bread crumbs.
2 eggs.

For the garnish:

Potatoes to fry.
Canned piquillo peppers.
Olive or sunflower oil, enough to fry.
Salt.
Preparation, how to make the recipe for Asturian cachopo with chips and piquillo peppers:
Let's start by making the french fries garnish. To prepare them I followed this recipe from chips but then I will also detail the step by step. Peel the potatoes and cut them into sticks roughly the same size. I have used a mandoline that includes blades with which it is very easy to cut the potatoes into sticks but you can also do it with a knife.
soak them with cold water in a bowl for 5 minutes to release the starch and thus prevent them from sticking to each other.
Dry them very well with kitchen paper or a cloth.
put abundant oil to heat, either in a fryer or in a frying pan. I have used my fryer and I have put it on 140ºC but if you do it in a pan, this temperature is when you introduce a potato and it bubbles constantly and without browning at all, and of course the oil does not smoke.
You have to cook them for about 5 minutes. The sweet spot is when you can stick a knife through a potato and it feels tender.
Take the basket out of the fryer or remove them to a plate with a slotted spoon if you are with the pan and raise the temperature. In fryer it is up to 180ºC, and in a frying pan without the oil smoking but quite hot, so that the potatoes brown in a matter of 2-3 minutes. They are ready when they look golden to your liking, although keep an eye on them because they change color very quickly.
Drain them and leave them on a wide tray with kitchen paper to drain off excess oil. I insist on the wide tray so that they are not piled up, drain the oil well and thus make them as crispy as possible.
It is at this time when they are still hot that you should throw them out. Salt to taste on top.
While the potatoes are cooking we go with the cachopo. Lay out the beef steaks on a board and hit them with a mallet or stone so that they soften and are flat and stretched.
Salpimenta the fillets and place on top the cheeses you have chosen.
Add the slices of Serrano ham.
close the steaks folding them or placing one on top of the other, depending on whether you have loose fillets or booklets. I had a booklet and as you will see at the end I have a double layer of cheese and ham inside. I like it this way so that the cachopo is thick but if you prefer it finer you can simply cover half of the booklet with ham and cheese.
put on a plate flourin other bread crumbs and finally the eggs shakes.
If it gives you more security, do as I do and insert some chopsticks on the edges to make sure it won't open up during cooking.
Now go passing the cachopo through each one and on both sides, first through the flour.
Then for the plate with egg.
Finally pass it by bread crumbsand let it rest on a large board or plate while you prepare the oil to fry it.
You can choose to fry them in a fryer or in a frying pan, this time I opted for a fryer since it was convenient for me to use it for both the potatoes and the cachopo, but you can also use a frying pan and in fact sometimes there is no other choice because the cachopos usually be too big for the fryer:

Cachopo in fryer: I have cooked it with him oil at 140ºC just 3 minutes on each side, although the best indicator is to turn it over when it has browned underneath.
Cachopo in frying pan: heat abundant oil in a wide frying pan (that fits the cachopo) but without reaching the point of smoking. Cook it for about 3 minutes on each side, and just like in the fryer, the best indicator is to flip it over when you see it starting to brown on the bottom.

Remove the cachopo to a plate covered with kitchen paper to release excess oil.
As a garnish I have served it with some piquillo peppers and some chips.
Time: 1 hour
Difficulty: medium
Serve and taste:
Let the cachopo rest for only 5 minutes before taking it to the table and while you see putting on the diners' plates the Garrison of potatoes and piquillo peppers. Cut the cachopo into portions and place them on the plates.
Now it's time enjoy every bite of the cachoposeeing as the cheese is melted and wants to get out, and enjoying the juiciness of the veal and the crispy layer of batter. It is authentic … scandal!
Variations of the recipe for Asturian beef cachopo with chips and piquillo peppers:
The Garrison of chips and piquillo peppers is a great accompaniment and is also the most typical, but you can also serve the cachopo with sauteed potatoes or simply cookedand even grilled or baked vegetables What zucchini, eggplant, mushrooms either padron peppers.
To give a more powerful touch of flavor change the serrano ham for dried meat and fill it only with Cabrales cheesewithout a doubt a cachopo to remember.
Tips:
when you go to buy the meat He comments that it is to prepare cachopos and they will surely advise you on the best cut they have for it and they will cut it into a booklet, which is the ideal thing to prepare it.
Managing fried foods well is a matter of experience Because if the oil is too hot, both the cachopo and the potatoes will absorb too much oil and they won't turn out well, but if, on the other hand, it's too strong, you'll burn the outermost surface and you won't cook the inside of the cachopo or the potatoes well. An extra aid can be the use of a kitchen thermometer or directly a fryer if you are starting.