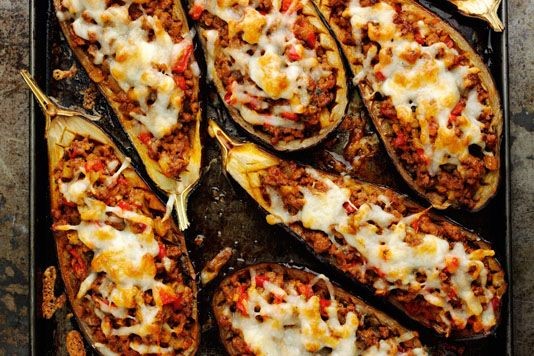 These eggplant stuffed with minced meat recipe It is perfect for all those who find it difficult to eat vegetables. A very juicy filling and that touch of gratin cheese are responsible for turning simple aubergines into a very tasty dish.
It seems unbelievable that despite the time the blog has been running, it has not yet published a meat stuffed eggplant recipe. Not only is it one of the first that I learned, but I make it very frequently, since I love eggplants.
As the saying goes, it's never too late if happiness is good, so here's my recipe for baked eggplant stuffed with meat. I almost always make it the same, with a touch of oregano and black pepper included. If anything, I change any ingredient of the sofrito depending on what you have in the fridge and need to take advantage of it.
To make this type of filling, whether in cannelloni, lasagna or similar dishes, I usually use chopped veal. However, the recipe is also very rich, and even juicier, if you change part of it for pork (half and half, for example).
The recipe has several steps, so it will take a little while to prepare it, but they are all very easy to do, you'll see. You want to know how to make meat stuffed eggplant? Well, I'll tell you right now.
Ingredients to make stuffed eggplants with meat. Quantities for 4 people
2 large eggplants
300 g minced meat
400 g of crushed tomato
1 onion
1 clove garlic
1 small carrot
1/3 glass of white wine
grated cheese for gratin
extra virgin olive oil
black pepper
Salt
oregano
How to make aubergines stuffed with minced meat
Prepare the eggplants
First we are going to roast the aubergines in the oven. To do this, wash them, cut them in half and remove the green part where they are attached to the plant.
make some cuts As you can see in the photo below, water them with a dash of olive oil and sprinkle them with a bit of salt.
Roast the eggplants in the oven at 180º for 30 minutes more or less or until they are tender.
Once ready, let them cool a little, as they come out too hot to handle.
When they no longer burn empty the meat of the aubergines trying to leave the skin intact. They have to be like a kind of little boats. I do it with a spoon and very carefully. Reserve the meat that you have removed of the eggplants.
Prepare the minced meat filling
To fill the aubergines we are going to make a kind of Bolognese sauce but a little more consistent. Begins finely chopping the onion and garlic clove.
Add a splash of oil in a large saucepan and fry both ingredients for 10 minutes or so. Cook over medium heat so the onion doesn't burn. Also add a little salt.
Peel and cut the carrot into cubes little ones. Incorporate it and cook everything another 10 or 15 minutes.
Add the white wineTurn up the heat a bit and let the alcohol evaporate.
Next add minced meat. With the help of a wooden spoon, give it little turns to separate it well while it cooks. Take the opportunity to add another little salt and a touch of black pepper.
When the meat has taken color, add the crushed tomato and oregano. Cover the container so that it does not splash and let everything cook for approximately 30 minutes over medium heat.
Secondly, chop the eggplant meat that you had obtained after emptying them. Add it and cook everything for a few more minutes so that the flavors are integrated.
Stuff the aubergines and gratin them
Now, with the help of a spoon, stuff the aubergines with the minced meat mixture. I like to be generous with the filling, leaving a little mountain on each eggplant.
Sprinkle grated cheese to gratin to taste. if you are very cheesemaker, you know, cheese at will. You can also add a pinch of oregano more to decorate.
aubergine gratin for 5 minutes or until you see that the cheese is melted and golden brown. I usually set my oven at 220ºC, but the gratin function depends on each oven.
Once you have them ready, take your aubergines stuffed with meat out of the oven and serve them. I like to eat them warm, when the cheese is still melted.
Tips for preparing stuffed baked eggplants
Do not be in a hurry to make the sauce. The more poached the vegetables are, the richer the dish will be.
Note that the filling should have a firmer texture than a bolognese sauce, for example. It has to hold well inside the aubergines and not spill. If you see that after the time I indicate the filling still has too much liquid, leave it on the fire a little longer so that it evaporates.
You can use whatever cheese you prefer, although for this type of recipe I tend to like melting or special cheeses for au gratin.
If you don't have white wine, change it for Red wine. The same happens with vegetables, you can use others such as leek, red pepper… To your liking.
You can save the meat-stuffed aubergines from one day to the next, even freezing them.