Dessert
Baked cheesecake : super easy and tasty Recipe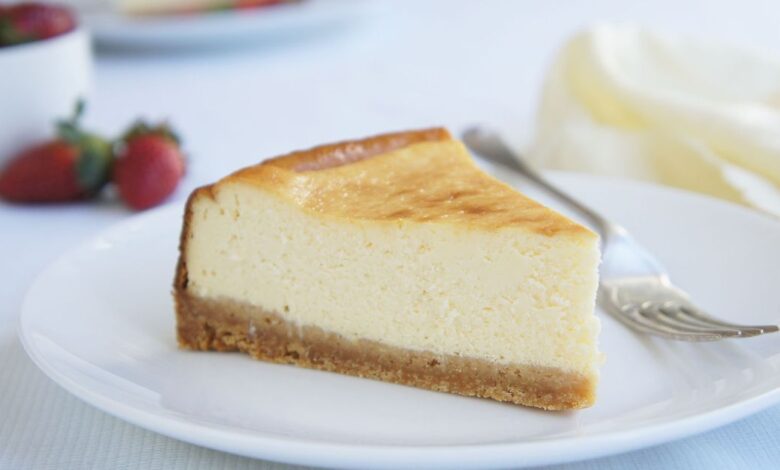 At home we are very very fans of cheesecakesI would say that it is our favorite dessert without a doubt and whenever we eat away from home we look for this type of cake in the dessert menu to try it. Of course, there is nothing like preparing a cheesecake at home and if it is baked you will see what a delicious aroma it gives off in the kitchen.
This recipe from baked cheesecake it is super easy and tastyyou will see that with few ingredients and no complications you will have ready in a short time a fantastic cheesecake without excess sweetness and with a cheese flavor, in this case cheesecake.
With little cheeses I am referring to those that are sold individually wrapped in triangular portions inside circular boxes. It is a cheese with a certain salty touch that this cake feels phenomenal, leaving a firm texture but at the same time a bit spongy.
If you like cheesecakes, don't miss our best recipes like the famous La Viña cheesecake, the authentic and delicious recipe or this other Baked Cheesecake. I also love to prepare it cold and good examples of this are the cold cheesecake with blueberriesthe cold Oreo cheesecake without oventhe no-bake salted caramel walnut cheesecake wave no-bake cold cheesecake with fresh figs.
They also have cheese cold lemon and cheese tartthe baked yoghurt cheesecake with apple and shortcrust pastry and the chocolate and cheese nougat cake, very easy and without oven. And as a cover, the cheese is present in the Guinness stout chocolate cake with cheese toppingin the famous american red velvet cake and in the carrot cake or carrot cake.
Ingredients to make the super easy and tasty baked cheesecake (20 cm mould):
10 little cheeses Each cheese usually weighs about 15 gr.
2 natural yogurts (without sugar).
3 eggs M.
120 grams of sugar.
20 gr of fine corn flour or cornstarch.
Preparation, how to make the recipe for baked cheesecake, super easy and tasty:
Preheat the oven to 190ºC with top and bottom heat (no fan).
Unwrap each little cheese and put them in a large bowl together with the sugar.
Mix them until the result is homogeneous. For this recipe you can use some rods, either manual or electric. You could also use a glass blender and mix the ingredients in the order that I indicate.
Now crack the eggs and put them in the bowl.
Mix again for about a minute, until everything is well combined.
Add the yogurt and beat again for a few seconds.
Lastly, incorporate the fine corn flour and mix until there are no lumps.
Use a mold (better if it is removable) and line it with baking paper. To make it settle better, a good trick is to wrinkle the paper a lot, then spread it out and you will see how it is easier for it to take the shape of the mold.
Pour inside the mixture of the cheesecake and move it a little so that it is well distributed.
Put the mold on a rack in the oven at medium height and bake the cheesecake for about 40-45 minutes. Keep an eye on it since it takes 35 minutes in case the surface is browning too quickly (it will depend on the oven) since if so you can cover it with aluminum foil and continue baking it until it is ready.
How do you know if it's ready? You can do the toothpick test, if you insert one and it comes out clean or almost clean, it's ready.
take out the cheesecakeput it on a rack and wait for it to cool completely.
Then store it in the fridge and let it rest until the next day.
Time: 1 hour and 15 minutes plus rest from one day to the next
Difficulty: easy
Serve and taste:
In order not to eat it cold, remember to take it out of the fridge at least half an hour before (better an hour) to serve it so that it is at room temperature. You may keep it in the fridge for up to 3-4 days covered with plastic wrap or in a closed container and by the way you will see how rest feels greatpersonally I like the flavor more from the second day, I notice it more settled and powerful.
Enjoy a fantastic baked cheesecake that is prepared very simply and that It is left with a most appetizing texture and an authentic flavor… scandal!
Variants of the baked cheesecake recipe, super easy and tasty:
If you want give it an even sweeter touchWhen you see that it is a few minutes away from being ready, spread a thin layer of sugar over the surface, so that with the time it has left in the oven it will melt and caramelize the surface.
You can also accompany it, like any other cheesecake, with some homemade jam or just with a little fresh fruitbeing the most common red fruits such as strawberries, raspberries or blueberries.
Tips:
we do not seek that the dough is left with a lot of air or bubbles or that beats excessivelySimply what you want to achieve is that all the ingredients are well mixed and without lumps.
Like I always say, each oven is a world And also, each of us likes things in a different way, so I encourage you, if you liked the recipe, to prepare it more times at home until you find the exact baking time so that it is to your liking.