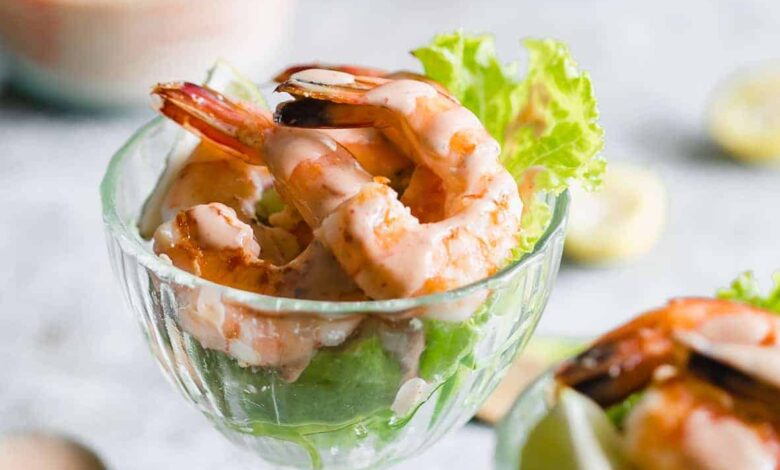 Is cream of prawns in small glasses It is perfect to serve as an appetizer, tapa or starter. Its texture is creamy and its flavor is delicious. It is decorated with a crispy shrimp skewer and it will look beautiful on your Christmas table.
Cream of prawns in small glasses: an ideal starter for Christmas
Open a Christmas menu with a Prawn or seafood cream it is most traditional. To give it a different touch, I suggest you present it in small glasses that we will decorate with crispy shrimp skewers. It is a way to plate the cream as showy as it is easy.
With the amounts that I give you, you will get some 5 small servings. Obviously, depending on the size of your glasses, it will work for more or fewer people. This should also be taken into account to prepare the correct number of skewers.
Speaking of the skewers. To make them you will need some wooden sticks, preferably short to fit the size of the glass. If you can't find them this size, you can cut some that you have larger, which is what I did.
I have little more to tell you about this shrimp cream recipe, so let's see How is it prepared.
Ingredients to make cream of prawns in small glasses. Quantities for 5 servings
— FOR THE CREAM —
500 g of fresh prawns
1 large leek (white part only)
2 small carrots
1 clove garlic
3 tablespoons crushed tomato
1 teaspoon of choricero pepper meat
50ml brandy
1 bay leaf
2 celery sticks (optional)
750 ml of water
75 ml of cooking cream
Salt
Pepper
extra virgin olive oil
– TO DECORATE –
5 prawns
Sesame seeds
extra virgin olive oil
skewer sticks
Ingredients to make cream of prawns in a glass
How to make cream of prawns in small glasses
Make a broth with the heads of the prawns
We are going to start by making the broth that will serve as the base for the cream. Peel the prawns and separate the heads. Do the same with the ones you had prepared to decorate, in order to take advantage of the heads, although you will reserve these raw for later. You must also remove the intestine that they have, that black stripe that runs lengthwise. In the photo you will see what I mean.
Pour a little olive oil into a saucepan and, over high heat, Sauté the shrimp bodies for a minute or two. As soon as you see that they have taken color, remove them and reserve.
In that same container, throw in the prawn heads and cook them over high heat for a few minutes. Crush them from time to time so that they release their juice. Roasting the heads will give a great flavor to the cream.
next, add the brandy and let the alcohol evaporate.
Add the bay leaf, chopped celery and water. If you don't have celery, you can add half an onion instead. Cover the pot and let everything cook about 25 minutes more or less over low heat.
Once you are ready, strain the resulting broth and reserve. When straining it you must press heads well against the strainer to extract all the juices well.
Prepare the shrimp cream
wash the leek and break it into small pieces. Also wash the carrots, peel them and cut them finely, so they will take less time to be tender. As for the Garliccut it into slices.
Pour a drizzle of oil into a casserole, which may be the one in which you have prepared the broth, and add the vegetables. Cook them over medium heat until the leek is soft and has a little color. Watch the intensity of the fire so you don't get burned. To speed up this step, add a little salt.
Add the crushed tomato and stir so that it cools without sticking. At this time, the contents of the pan may spatter a little. Place a lid on top if necessary.
After about 10 minutes, the tomato will have fried and its liquid will have evaporated. It's time to add the choricero pepper meat and the broth that we had prepared. She covers the pot and lets it cook until the carrot is tender.
Add the marked prawns, and a little salt and pepper. Give it all one last chup chup so that the prawns are finished cooking inside.
Once you have this preparation ready, grind it until you get a homogeneous texture cream.
Finally, incorporate the cream and correct the point of salt. If the cream is too thick for your taste, you can add a little more water. Reserve in the fridge.
Present and decorate the shrimp cream cups
Recover the prawns that you had left unmarked at the beginning of the recipe. Lightly moisten a few skewer sticks and carefully thread a prawn onto each one. We moisten them so that they do not burn when we cook the skewers.
Place the sesame on a plate and batter the prawns on it by pressing gently with your fingers so that the seeds stick together.
Pour a trickle of oil into a skillet or casserole. Cook the prawns on all their faces until they are done and the sesame lightly golden.
Finally, distribute the cream in a few glasses small ones and place a prawn on each one.
Tips for making shrimp cream for Christmas
To make the cream of prawns in small glasses I have used frozen prawnswhich come out quite well priced and give very good results.
I advise strain the broth through a fine mesh strainer or, if you don't have one, through a cotton cloth. So nothing of dirt or any other impurity will pass through.
These creams usually do well a slightly spicy point. If you want, you can add a few drops of Tabasco.
Can this seafood soup be frozen? If possible. If once defrosted you see that it is a bit cut, crush it again and it will return to its original state.