Dessert
Homemade Italian tiramisu recipe for Special Guest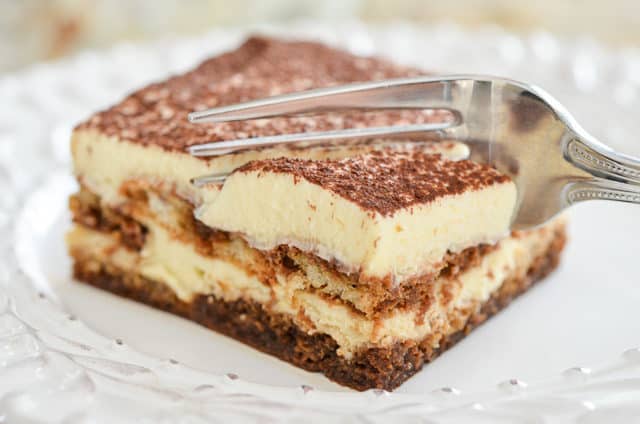 follow our homemade italian tiramisu recipe and you will see what easy is to prepare and what delicious left, you will triumph with dessert. It basically consists of two layers of biscuits dipped in coffee and between each layer add a spongy cream of mascarpone cheese and eggs that is very pleasant on the palate. It is crowned with a bit of pure cocoa powder and it only needs a few hours of rest in the fridge to be ready.
Ingredients to make easy and delicious homemade Italian tiramisu (serves 6-8):
2 eggs size L or 3 eggs M.
70 grams of sugar.
400 gr of mascarpone cheese. If you can't find it, you can use cream cheese, although mascarpone is denser and that shows in the final result.
Ladybug biscuits (they sell them already made), of the amount that will fit in the mold that you are going to use to complete two layers. In my case I needed 10, and as a recommendation I suggest you buy the hardest biscuits you can find, since the very soft ones melt quickly when dipped in the coffee.
Between 150 and 200 ml of coffee, whatever the biscuits need to absorb.
Pure cocoa powder to decorate.
A pinch of salt.
Preparation, how to make the homemade Italian tiramisu recipe, easy and delicious:
Prepare the coffee in your usual coffee maker and let it cool.
Casca los eggs and put the yolks in a bowl and in another the clear. To prepare this recipe, the eggs must be at room temperature, so if you have them in the fridge, take them out an hour before.
put the clear in a bowl with a pinch of Salt and beat them a little with your own hand until foam comes out.
Now beat them with an electric mixer until you get a firm texture, so much so that if you turn the bowl over they don't fall. It can also be done with manual rods but it takes a lot of time, energy and speed to get a good result.
Throw in the bowl of yolks the sugar and beat it well with manual or electric rods. You will see that little by little the mixture becomes homogeneous and changes color, being ready when it looks a very light yellow color.
Add to this bowl the mascarpone cheese and mix again with the rods until the mixture is once again homogeneous and without lumps.
Go adding the clear Assemble the other mixture in 2 or 3 batches and with the help of a kitchen tongue, mix everything very little by little and with enveloping movements so that the texture remains spongy.
Wait for the coffee is completely cold and place it in a container that allows you to wet the biscuits. Go wetting them but very quickly because they soften immediately, do it one by one and place them in your mold, making a base.
Pour over half of the cheese mix that we have prepared
Put a layer of biscuits wet in coffee and again the remaining half of the cream.
Add a teaspoon of dessert pure cocoa powder in a colander and tap it to sprinkle it on top of the tiramisu, trying to cover it completely with a very thin layer of cocoa.
Cover it with plastic wrap, so that it remains tight in the mold so that it does not touch the tiramisu, and let it rest in the fridge for a minimum of 4 hours, although you can also prepare it the day before and that way it will be even more settled (it is what I usually do ).
Time: 30 minutes plus a minimum of 4 hours in the fridge
difficulty: easy
Serve and taste:
Keep it in the fridge until serving time and carefully remove the first piece. From there the rest will cost you less since removing the first one is the most complicated. Put each portion on a plate and, if you want, sprinkle more cocoa powder on topespecially since in the fridge it tends to get a little damp.
When carrying raw eggs, I recommend using it at the most the day after preparing it, although it can last a couple of days as long as you keep it refrigerated. Enjoy its special texture and flavor, it's… scandalous!
Variations of the easy and delicious homemade Italian tiramisu recipe:
You may add a liquor to the coffee so that when dipping the biscuits they are also soaked in that flavor. The most classic is amaretto with its classic touch of bitter almonds but you can use the one you like the most, for example chocolate, coffee or hazelnuts.
If it happens to you like me you don't want to do it with coffeejust boil a glass of milk with a twig of cinnamon or a pod of vanillaWhen it boils, remove it from the heat, wait for it to cool and dip the biscuits in it.
Tips:
Whip the egg whites well to get the best result and do the test of overturning the bowl without fear, I assure you that if they are correct they will not move at all.
Mixture the whites mounted with the rest of the ingredients smoothly so as not to break the air bubbles and achieve that pleasant mousse-like texture that we are looking for.