Dessert
How to make sweet or quince meat with Thermomix of 10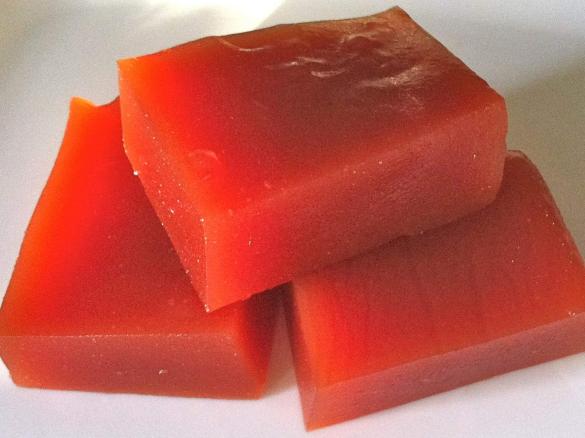 I do not know if it has also happened to you but until recently for me to hear about quince it was everything a mystery. Accustomed to seeing quince jam everywhere but not the fruit, only its photograph on the labels, always reminding me of a mixture of lemon and apple in appearance.
In this recipe I teach how to make homemade quince jellywhich in some places is called quince jelly. With just two ingredients we can get a sweet and consistent paste with that peculiar flavor and grainy texture that the quince brings and that goes great to accompany cheeses or pâtés.
I usually prepare it only once a year when it is in full season (normally between October and January included) and with this amount I have enough for the whole year although this already depends on how much use is made of it.
If you want to know what uses to give to the quince I recommend you prepare these delicious crispy brie cheese and filo pastry with homemade quince paste. You can also substitute honey in recipes like fresh cheese with honey and walnuts (mel i mató) or be the sweet part that accompanies some delicious toast with Camerano cheese and fresh figs seasonedsubstitute the caramelized onion for these homemade goat cheese burgersaccompany in a fantastic way some toasts with homemade fresh cheese or put a sweet touch on these walnut and basil blinis with cottage cheese and dried tomato.
Ingredients to prepare sweet or quince meat with Thermomix:
Quinces, the amount you prefer. I have used 3 to obtain the quantity that you can see below in the photographs.
Sugar, always 80% of the weight of the quince flesh. Below I tell you how to calculate it.
Preparation, how to make the recipe for sweet or quince meat with Thermomix, of 10:
wash them very well quinces with cold water, rubbing with your hands to loosen the fluff that they usually carry on the outside.
Cut the quinces in quarters to remove the center area with the seeds. Some are a bit hard so use a very sharp knife.
Cut them into 3 or 4 cm pieces, activate the scale function of the Thermomix and pour them into the glass.
When you have added them all, keep the weight, in my case it was 943 gr of quince.
To calculate the amount of sugar multiply the total weight of quince by 0.8, in my case 943 x 0.8 = 754 gr that we need sugarso use the scale function again and cast sugar in the glass until reaching that weight.
Grind them quinces and the sugar for 30 seconds at progressive speed 5-10 and lower the remains of the walls with the spatula.
Remove the cup and put the basket in its place so that the liquids evaporate but do not splash and cook the quince candy 30 minutes at 100ºC and speed 5.
Open the lid being careful not to burn yourself with the vapors and lower the remains of the walls with the spatula.
Replace the lid and the basket and continue cooking for a further 15 minutes at 100ºC and speed 5.
When it's ready quince candy It will look like the one in the picture, quite thick and with a fine texture.
Freshly made and hot, transfer it to glass containers in which you are going to store it or to a mold like the one I have used to give it a specific shape, personally I prefer to let it cool in a container from which I can unmold it since it seems easier to me after using and serve that if it is kept in a glass jar for example. Do this before it starts to cool down as it solidifies quickly, and try to make the top area smooth, if necessary run the spatula over it a bit.
Let cool uncovered about 2 hours or until cold.
Finally, and so that it settles well, let it rest in the fridge, already covered, for a minimum of 4 hours, although I like to leave it for at least one whole night.
Time: 1 hour
Difficulty: easy
Serve and taste:
Keep the quince in the fridge in a covered container and take it out a while before when you are going to serve it. The most typical thing is to cut a piece and serve it on a plate or put it directly on the toast or canapés that it is going to accompany, for example. It can be kept for months in the fridge and can also be frozen to last longer.
This sweet combines phenomenally with cheeses with a powerful flavor such as blue cheeses (with Cabrales it is incredible), curly goat cheese or brie cheese, for example, and also with pâtés and foie gras. Give a sweet touch to both sweet and savory preparations and enjoy its characteristic flavor and texture, it's authentic… scandalous!
Variations of the quince jam recipe with homemade Thermomix:
If you want to obtain a quince with a creamier texture, you can combine quinces and apples (peeled) in equal parts and make it with this same recipe, you will see how delicious it is.
If you want to flavor it, add a touch of citrus zest, for example, or a little ground cinnamon, a few drops of vanilla essence or ground cloves.
Tips:
Remember to have on hand the containers you are going to use to store it or shape it when you have finished cooking it. It is not that it solidifies at the moment but hot and freshly made it is much easier to remove it from the Thermomix glass and transfer it to those molds or containers.