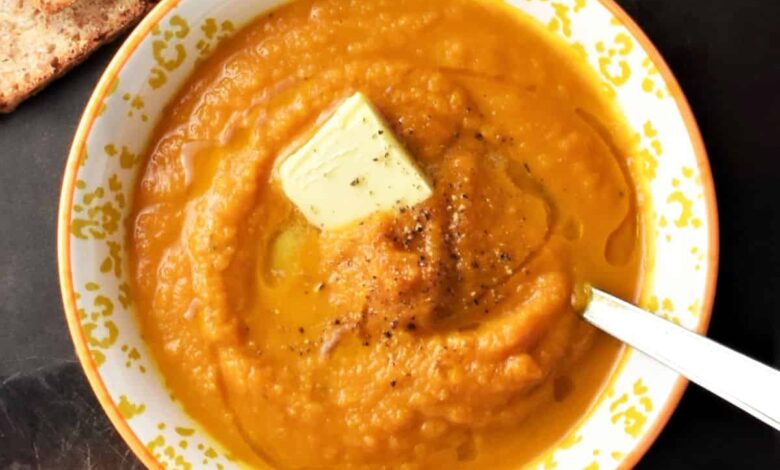 Pumpkin, carrot and potato cream: a staple in my recipe book
As soon as the temperatures drop, I'm already buying seasonal ingredients to prepare delicious vegetable creams. One of my favorites is this pumpkin and carrot cream with a touch of leek and potato. I love it, not only for its flavor, but for that striking color that makes it even more appetizing.
The combination of pumpkin and carrot provides a very rich sweet touch, while the potato makes its texture much smoother. In fact, as long as you're not going to freeze them, I like add a little potato to vegetable creams to achieve that softness.
As if these were not enough reasons to prepare this recipe, I have to say that It's very easy to do, because you practically only have to cut the vegetables and cook them. Also, if instead of a traditional pot you use an express pot, the process will be even faster.
Having said all this, let's see how to make pumpkin and carrot cream homemade? Let's go with it.
Ingredients to make pumpkin and carrot cream. Quantities for 4 servings
1 leek (about 100g)
3 carrots (about 300 g)
700 g pumpkin (heavy without skin)
1 small potato (about 200 g)
400 ml vegetable broth (or water)
extra virgin olive oil
Salt
White pepper
How to make pumpkin and carrot cream step by step
Start by preparing the vegetables. To do this, wash them, peel them and cut them into pieces. It is not necessary that you make totally regular cuts, although I recommend that they be small pieces. This way they will take less time to do.
On the other hand, pour a splash of oil into a large saucepan and heat it over medium-high heat. There we are going to fry the vegetables, an important step if we want our pumpkin cream to be very tasty. We are not going to incorporate them all at once, but depending on their hardness.
When the olive oil has taken temperature, add the leek. Also add a bit of salt, which will help the vegetables release their water. Saute it about 5 minutes.
Add the carrot and cook another 10 minutes.
Next, add the potato and pumpkin pieces. Keep cooking everything until you see that the ingredients start to get soft. Watch the temperature of the fire so that the leek does not burn, but if you see that a piece takes on some color, nothing happens. In fact, this way the cream will have more flavor.
Now add the broth and a little pepper, cover the pan and let it cook until the ingredients are completely tender. If you do it in a traditional casserole it will take about 25 minutes. If you're using a pressure cooker, 8-10 minutes will suffice.
After the cooking time, grind the contents of the pot until you get a cream as thin as possible. You can do this step with a food processor, with your hand mixer or with the appliance of your choice.
Check that the consistency of the cream is to your liking and, if necessary, add a little more broth or water.
Finally, rectify the salt point and serve your pumpkin and carrot cream.
Tips for preparing pumpkin and carrot cream
usually i I usually buy the whole pumpkin. When on some occasion I have bought it chopped, I have found that it was a little past. The variety that I usually buy is the peanut.
If you are going to use a whole pumpkin, be very careful when cutting it and peel it. Better to do it little by little than to take a finger.
It is important that sauté the vegetables well before putting them to cook. This adds a very rich touch of flavor to the dish, much more so than if you cook them directly while raw.
If the broth you are going to use is packaged, don't add too much salt at first. These industrial broths usually contain a considerable amount of salt and, if you do not take it into account, you run the risk of adding more.
The amount of broth you need will depend on your taste, but also on where you cook your pumpkin cream. In a traditional casserole, for example, there is more evaporation and you may need to add a little more liquid.
This dish has potato, so cannot be frozen.
Ideas to serve pumpkin cream with carrot
I have served my pumpkin cream with a splash of cream and some pumpkin seeds. You can substitute the cream for natural yogurt.
It is also usual to accompany it with some fried breadcrumbs or croutons. They give it a very rich crunchy point.
Another option is fry a few strands of leek and decorate the cream with them.
Some nuts or even some sautéed chickpeasThey also work very well as a garnish in this type of vegetable creams.