Easy Recipes
Rich and easy pasta recipe of Macaroni with tuna and tomato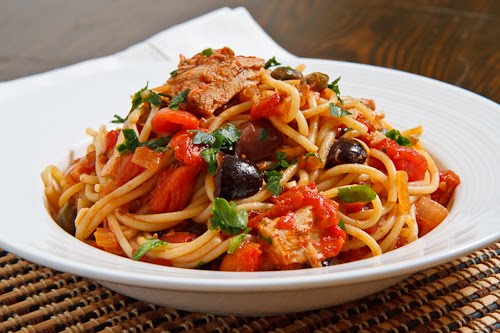 At home we often eat pastaat least once a week, and it offers so many possibilities and is so rich that it is always easy to make a place for it on the menu. With very few ingredients you can get a big plate and if we also prepare a homemade sauce or accompaniment to our liking, we will enjoy making it and of course eating it.
These macaroni with tuna and tomato are one of those pasta recipes left delicious and they are also very simple and to succeed. You're going to learn how easy it is to make a homemade tomato sauce and to your taste and how rich it is with that touch of tuna.
if you love pasta you will enjoy our selection of pasta recipes among which are classics such as spaghetti bolognese or the rigatoni with bolognese saucein addition to others as popular as the beef lasagna bolognesethe vegetable lasagnathe Sicilian caponata-style pasta with vegetablesthe baked macaroni au gratinthe classics spaghetti carbonara (and the non-traditional version of spaghetti carbonara with cream), the macaroni with roquefort saucethe Spaghetti with prawnsthe Alfredo pasta with its famous saucethe pappardelle a la amatriciana, a delicious Italian saucethe minced meat cannelloni with fresh pastathe tagliatelle with pesto sauce and my most special recipe, the Escándalo macaroni with mustard and cheese bechameldelicious!
you can even learn how to make your own fresh pasta at home and with it prepare the wonderful homemade fresh pasta ravioli stuffed with cottage cheese with summer truffle or the incredibles homemade fresh pasta tortellini stuffed with pork cheeks in sauce.
Ingredients to prepare the recipe for macaroni with tuna and tomato, very rich and easy (4 people):
400 grams of macaroni. A portion can range between 80 and 120 grams per person, depending on taste and whether or not it is the only dish on your menu.
1 onion.
800 gr of crushed tomato. It can be fresh and you can grind it at home or use the ones that are already preserved. I usually use canned crushed tomato and also sifted, that is, it already comes without skins or seeds.
1 dessert spoon of sugar (optional, it comes in handy to subtract acidity if the tomatoes are not very ripe or are not in season).
2 cans of canned tuna.
Olive oil and salt.
To accompany: Parmesan or Grana Padano cheese and some fresh basil leaves.
Preparation, how to make macaroni with tuna and tomato, very rich and easy:
Peel the onion and finely chop it.
Put it in a pot with a little oil Y Salt over low heat and cook for about 1o minutes so that it is soft and only browns a little.
Meanwhile prepare the tomatoes, which as I mentioned in the ingredients section must be crushed. I like to use sifted tomatoes that are sold canned, crushed and without skins or seeds, but you can also do the same with natural tomatoes. When the tomatoes are in season I usually crush them and then strain them so they don't have skins or seeds.
cast the tomatoes crushed to the pot along with the sugar if necessary and a little Salt and cook it over low heat for 15 or 20 minutes, the idea is to reduce its volume to almost half (although there are also those who like it more or less thick).
Cook it with the pot covered but leaving a small opening, this will allow the liquid to evaporate but not splash, since the tomato sauce tends to splash and leave everything a bit chaotic around.
I like to leave it that way, but if you like it to be blended, now is the time to do it, passing the sauce, for example, to a hand or glass blender and blending for a few seconds. In that case you will see that it acquires a nice orange color thanks to the onion, which reduces the color of the tomato. Pour the sauce back into the pot.
Drain the cans of tuna, crumble it a little and add it to the pot. Mix it well for a couple of minutes over low heat and you have the tuna and tomato mixture ready. Try it in case you have to rectify it from Salt.
While the tomato sauce is cooking you can start preparing the pasta. put abundant Water to cook in a saucepan over high heat.
When the water boils add a dessert spoon of Salt and the macaroni or the pasta you prefer, and as soon as the water boils again (it will take very little) start counting the minutes indicated on the package. In my case it was 8 minutes.
When the macaroni are ready, throw them over a colander in the sink to release the water.
Now throw the macaroni in the pot in which you have prepared the sauce and mix everything well. You can also serve the macaroni on the plates right away and pour the sauce on top, however you like.
Time: 50 minutes
Difficulty: easy
Serve and taste:
Pasta has one very good thing, especially when it goes with a sauce, and that is reposada is even richer so you can serve them fresh and hot or even rested from the day before and reheated in a pan, pot or the microwave. They hold you in fridge 2-3 days without problems and can also be to freezeand if the sauce gets too dry you can add, if you have, a little tomato sauce or fried tomato or even just a little water before heating them.
When serving them on the plates, do not forget to accompany them with a little grated cheese and some leaves fresh basil chopped. You can also leave a container full of cheese with a teaspoon in the center of the table so that everyone can take the amount they prefer. It's a plate of pasta of the simplest and most delicious, authentic… scandal!
Variants of the recipe for macaroni with tuna and tomato to succeed:
You can prepare the recipe in the same way but changing the type of pasta since with some spaghetti, noodles or fusilli it is also phenomenal.
if you fancy prepare a slightly more elaborate sauce, cook a bit of finely chopped carrot and leek together with the onion, they give it a great flavor. You can also give it a very rich touch by incorporating, together with the tomato, some leaves of basil chopped fresh or a little oregano dry.
Cheer up to gratin them! For this, prepare our homemade bechamel sauce, very easy and without lumpsput the macaroni mixed with the sauce on a baking tray, spread the béchamel sauce on top and grated cheese and gratin them in the oven at 200ºC with heat up and down for 10 minutes or until you see that the cheese has melted and is starting to brown.
Tips:
at the time of freezingFor simplicity, I usually only freeze the tomato and tuna mixture in portions, so it doesn't take up much time in the freezer, and when I want a freshly made pasta dish, I just cook the pasta and add the sauce.