Easy Recipes
Shakshuka : a recipe for eggs with tomato sauce and peppers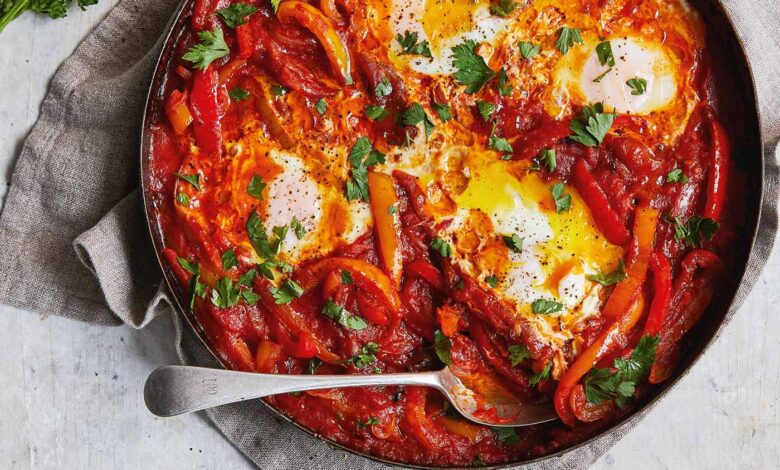 There are numerous traditional dishes within the cuisine of the Middle East and also the Mediterranean whose base is a tomato sauce and this is one of them. Full of vegetables and with some eggs as the culmination, it is an Arab dish that is reminiscent of other preparations such as ratatouille from Manchego or eggs on the plate.
Learn how to prepare shakshuka, a very aromatic recipe for eggs with tomato sauce and peppers thanks to the combination of spices that are added during cooking and which also includes a touch of spiciness. It is a homemade sauce cooked calmly on which eggs are curdled and is usually accompanied with fresh coriander leaves.
Follow the detailed step by step to prepare shakshuka in a simple way and if you liked it, do not hesitate to prepare other recipes that combine eggs and tomato such as eggs stuffed with tuna and tomato or the eggs on the plate with ham and peas. It is also usually served with egg, although the base does not contain it. traditional vegetable ratatouille, very easy and tasty and of course I did not want to stop mentioning this homemade tomato sauce or pomodoro sauce without skins or seeds.
Ingredients to make shaksuka, a recipe for eggs with tomato sauce and peppers (4 people):
4 eggs.
1 large onion.
1 red pepper.
2 Italian green peppers.
800 gr of crushed tomato, either fresh and crushed at home or canned already crushed or even sieved, without skins or seeds (the latter is the one I usually use).
1/2 teaspoon of ground cumin dessert.
1/2 teaspoon of ground coriander dessert.
1/2 teaspoon of ground black pepper.
1 dessert spoon of sweet paprika.
2 or 3 chillies for a spicy touch, to taste.
1 dessert spoon of sugar (optional, in case you have to correct the acidity of the tomato).
Olive oil and salt.
A fresh coriander leaves to decorate.
Preparation, how to make the recipe for shaksuka, eggs with tomato sauce and peppers:
I have prepared the recipe for only 2 servings but nothing changes, not even the times. Simply for 4 or more servings use a larger skillet.
Peel and finely chop the onion.
In the frying pan that you are going to use, add a little olive oil Y Salt and put it on medium heat.
When it's hot, throw the onion along with a little salt and cook it for 5 minutes. Remember to stir it from time to time.
while washing the Peppersremove the tail and the seeds inside, cut them into strips and then chop them too.
It incorporates the Peppers to the pan and a little more Salt and cook them together with the onion for another 5 minutes, stirring occasionally.
Add to the pan the tomatoes crushed and spices: the cuminthe cilantrothe black pepperthe sweet paprika and the chillies (previously chop them a little). Also throw a little Salt and mix.
Raise the heat so that it is a little higher and as soon as it starts to bubble, lower the heat so that it is soft and cook the tomato sauce and peppers uncovered for 15 minutes to allow the liquids from the vegetables to evaporate. Tomato sauces in general spatter a bit, the only thing we can do is put the heat on low and then clean around it or use a deeper pan or saucepan.
The sauce it will be ready when it has reduced a bit and also looks thicker. Try it in case you have to rectify Salt and if you notice it a little acid due to the tomato, add the sugarmix, cook it another minute and try it again.
Make 4 holes on top of the sauce with a soup spoon (but without reaching the bottom), break the eggs one by one in a separate bowl and see putting them on each of the holes. Sprinkle a little salt on top.
Now yes, cover the pan, set the heat to medium-low temperature and wait for the eggs are cooked (unless the white is curdled), they will take about 3 or 4 minutes.
Remove the pan from the heat and finish off by decorating with some chopped cilantro leaves and some whole ones.
Time: 50 minutes
difficulty: easy
Serve and taste:
You can bring this recipe directly to the table in the pan you cooked it in, but don't forget to put a trivet under it because it will still be hot. For my taste, eggs are hot, but the truth is that this dish can be eaten warm or even cold. If you have any left over you can keep it in the fridge for 2-3 days and the sauce can also be frozen.
Do not forget to accompany with some good slices of bread so as not to leave a drop of this homemade tomato sauce that is spectacular. The combination with the eggs and the spices is authentic… a scandal!
Variations of the recipe for shaksuka, eggs with tomato sauce and peppers:
Change the amount or type of spices and of course adapt the level of spiciness to your liking to enjoy this dish to the fullest.
Although it is out of the ordinary, sometimes I have prepared this dish with quail eggs on top since they are cooked in a moment and they are great.
Tips:
Even if you are going to prepare the recipe for two people, I recommend you always cook the tomato and pepper sauce as if it were for 4 people and freeze half of it for another time, simply heat the sauce in a pan, cook the eggs on top and thus have this great dish ready. in a very few minutes.